Links
---
---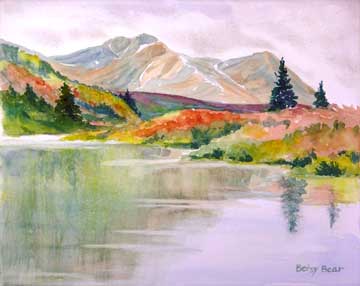 Betsy Bear Creations
Betsy Bear is a fine Alaska water color artist who creates beautiful images of Alaska and its native flora and fauna. I've linked to her site because her work is very good, and she's my sister and made me do it.

---
Ryan A. Desjardins Photography
Ryan's superb site features world class fine art outdoor and scenic photography. If you haven't visited for a while, it will be a new experience well worth your time.
---
Mark Raymond Mason Fine Art Photography Fine art nature and urban abstract photography by Mark Raymond Mason. Galleries of abstract nature and urban fine art photographic prints available for sale online.

---
Allen Davis Fine Art Nature Photography Poster-size prints of landscape photography, wildlife photography, and sports photography.

---
Australian Gallery A collection of fine art scenic nature photography presented by two of Australia's leading outdoor photographers, David Evans and Ian Carlson.

---
Papa Ed & Nickolus Model Railroad Home Page
My companion site features technical tips on creating great model railroad photographs. If you enjoy model trains and photography, check it out for tips on camera, lenses, film, and techniques. A gallery of examples is included, along with some other features of interest to model railroaders. My model railroad pictures have been published in Model Railroader, Finescale Railroader, and the Walthers 1999, 2000, 2001, 2002, and 2003 Big Trains Model Railroad Reference Book.
---
Westlake Publishing
Simply the best best publications for stunning model railroad photography and finescale model construction. Quarterly publications include the Narrow Gauge Annual, Industrial and Mining Annual, and Modeler's Annual.
---
Home
---
© 2018 Ed Morris. All Rights Reserved.