About the PE&N
A 1:20.3 Narrow Gauge Diorama

---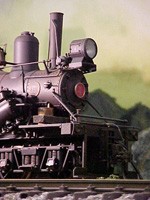 The Powhatan, Elkton & Nottoway narrow gauge railroad (PE&N) is a G scale (1:20.3) indoor model railroad.
Once upon a time, the models operated on a 2.5 foot by fourteen foot fully operational switching diorama designed to enhance model railroad photography. The railroad is prototypical of the numerous eastern narrow gauge lines that served timber and mining industries in North and South Carolina, Virginia and West Virginia from the post-Civil War era through the 1950's.
Space requirements for our photography business spelled the demise of the PE&N as an operational diorama. Now rolling stock and structures grace shelves along the garage wall.
Motive power consists of a Bachmann Climax, an LGB Porter, and a scratchbuilt Brookville gas mechanical that have been weathered and detailed with parts from Precision Scale Products, Trackside details and Ozark Miniatures. Rolling stock is from LGB, Bachmann, and some scratchbuilt. Wheels are from Sierra Valley and Gary Raymond (some photos may predate wheel conversion). Rolling stock is equipped with Kadee #1scale couplers. Structures include a Pola water tower and station depot. Scratchbuilt structures include a section tool shed, fuel facility, country store, and fruit and produce transfer warehouse.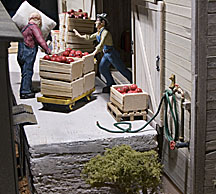 Now when I need to photograph a model for a contest or magazine article, I built a small temporary diorama. I use large pieces of styrofoam which I cover with real sifted dirt and Woodland Scenics landscaping materials, add a few bushes and trees, along with gravel and rocks to complete the scene. For track, I handlay Atlas O scale nickel-silver track to represent light gauge industrial rail in 1:20.3. For ties, I handcut pieces of old barn wood to represent heavily weathered ties.
My wife, Linda, hand paints figures from SLM, and others small detail parts to add to the realism of the dioramas.

[PE&N Home]


---
© 2018 Ed Morris. All Rights Reserved.