Reproduction Battery Boxes for Farm and Portable Tube Radios

International customers please read Question 14 on the FAQs page before ordering. International orders are accepted on a case-by-case basis.
---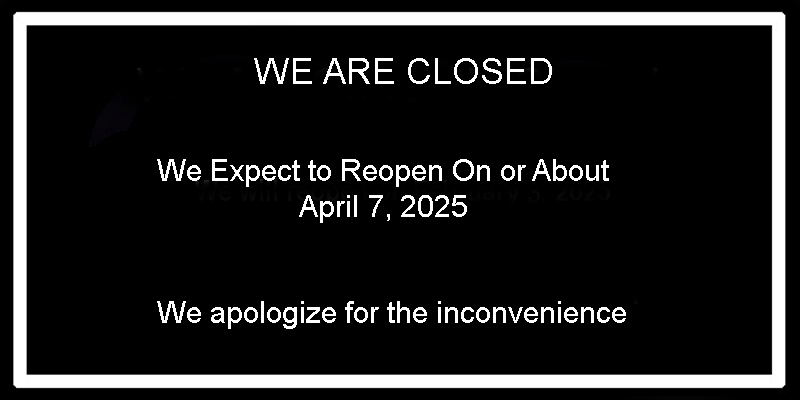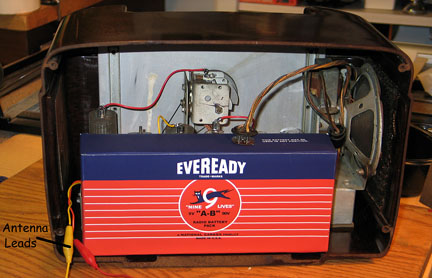 Vintage generic battery boxes for building your own farm radio batteries. Boxes are in the style of several common mid-20th century replacement batteries, but do not have voltage or model data on the label so that they can be used for a variety of farm radios. These boxes have a similar look to the original batteries, but are not exact reproductions.
Many farm radios used a 1.5 volt/90 volt AB battery, and these boxes are large enough to build such a battery and fit in most farm radios. Each box will hold ten 9 volt cells for the B supply and one or two D cells for the A supply. For A voltages greater than 1.5 volts, for example, 7.5 or 9 volts, it may be necessary to use C or AA batteries for the A supply. A 3x2 C cell holder (holds six C cells) will fit for a 9-volt A supply, along with ten daisy chained 9-volt batteries for the B supply.
Please NOTE: I do not make a connector for this box. You must provide or make your own connector. Some Zenith portables used the same connector found on their Trans-Oceanic radios. If you know that your radio has the same connector as a Zenith Trans-Oceanic, you can use the Z-985 style male connector found on my Zenith Trans-Oceanic product page.
Farm radios used a variety of male or female connectors. You may be able to use a connector from an old original battery if one is available. Auto parts stores and electronics supply houses such as Allied, Digi-Key, and Mouser carry a variety of Molex power connectors that are easily adaptable to work with most farm radios, and the connector can be hidden inside the battery box.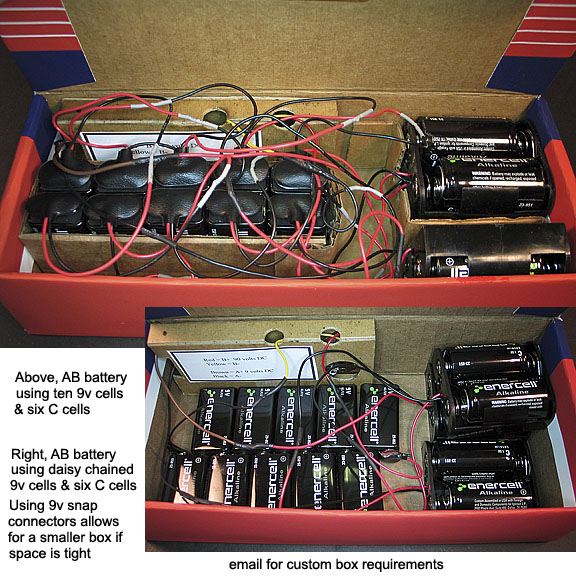 Each box comes with intructions for building a 1-1/2 volt/90 volt AB battery. If your radio requires different A or B voltages, you can easily modify the instructions to provide the right values.
Please verify the box will fit in your radio, and that batteries and holders will fit in the box before ordering. External dimensions of the standard box are 10-1/8" long, by 4-1/2" deep, by 2-3/4" high. Internal dimensions are 9-1/2" long, by 4-1/4" wide, by 2-1/2" high. If you need a custom sized box, please contact me by email for options.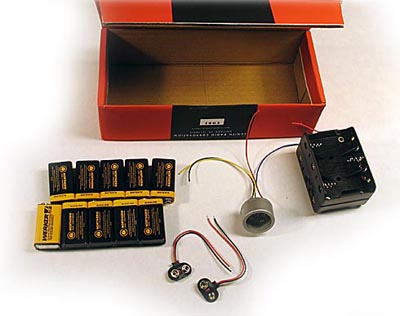 Boxes are made from new 1/8" corrugated cardboard. Labels are printed on Epson Ultra Premium Presentation paper with archival inks. Boxes are individually handmade upon receipt of order and there may be minor variations from sample to sample.
Batteries and battery holders shown in photos are NOT included with the box. We do not normally have connectors available, but if you have a useable OEM connector, you can send it to me for installation in your box.
Email for availability of battery holders and for information about custom box sizes, connectors, or purchasing assembled battery boxes.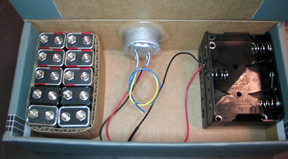 To purchase our reproduction items online using our secure Shopping Cart, select your item and click "ADD TO CART." When you click "ADD TO CART," you will have an opportunity to increase quantities if you wish to purchase more than one of the same item. Shipping & Handling, and state tax, if required, will be added at CHECKOUT. Click on "VIEW CART" to see order details and Checkout. Unless prior arrangements are made, all shipping is via USPS domestic Priority Mail or Priority Mail International. We charge actual postage only. After shipment, we refund any excess postage paid. You will be invoiced for additional postage if the amount paid is insufficient to cover actual postage after your purchases are packed and weighed.
Please read our terms for shipping and handling charges and when state tax applies. Use your browser's back button to return to this page.
---
Vintage Zenith generic battery box for Zenith farm and portable tube radios that won't accept the Trans-Oceanic sized Z-985 battery. Battery measures 10-1/8" x 4-1/2" x 2-3/4." Check battery compartment size before ordering. Use to build a working battery for your Zenith farm radio or smaller tube portable radio. Batteries and battery holders not included. Includes instructions. No connector is available for this box, but check your radio's OEM connector. If it is the same female connector as used in the tube Trans-Oceanics, you can use the Z-985 male connector sold on our Trans-Oceanic products page.
$20.50 + S&H
---
Zenith Z-909 battery box for Zenith 6G801 and other similar radios using a 9volt/90volt AB battery. The Z-909 battery measures 9-3/4" x 4-3/8" x 2-1/2." Check battery compartment size before ordering. Use to build a working battery for your Zenith portable tube radio. Batteries and battery holders not included. Includes instructions. The Zenith Z-909 battery uses the same male connector used in the Z-985 Trans-Oceanic family of batteries. This battery is available with a Z-985 type connector.
$20.50 + S&H
---
Zenith Z-675 battery box for Zenith 5G500 and similar Zenith portable tube radios. Battery measures 12-1/2" x 4-1/4" x 2-1/4." Check battery compartment size before ordering. Use to build a working battery for your Zenith portable tube radio. Batteries and battery holders not included. Includes instructions. The Z-675 battery is for 6volt/75volt radios using the special Zenith 5G500 connector. The Zenith Z-675 can be purchased with the Zenith 5G500 style connector.
$25.50 + S&H
---
Vintage Eveready generic battery box for farm radio. Eveready batteries were a common replacement battery. Use with most vintage farm radios. Battery measures 10-1/8" x 4-1/2" x 2-3/4." Check battery compartment size before ordering. Use this box to build a working battery for your farm radio. Batteries and battery holders not included. Includes instructions. No connector is available for this box.
$20.50 + S&H
---
Vintage Ray-O-Vac generic battery box for farm radio. Also a common replacement battery you may use with most vintage farm radios. Battery measures 10-1/8" x 4-1/2" x 2-3/4." Check battery compartment size before ordering. Use this box to build a working battery for your farm radio. Batteries and battery holders not included. Includes instructions. No connector is available for this box.
$20.50 + S&H
---
Vintage Sears Silvertone generic battery box for farm radio. Like the Eveready, Sears Silvertone batteries were common replacement batteries. Use in your Sears or Silvertone branded radio or most vintage farm radios. Battery measures 10-1/8" x 4-1/2" x 2-3/4." Check battery compartment size before ordering. Use this box to build a working battery for your farm radio. Batteries and battery holders not included. Includes instructions. No connector is available for this box.
$20.50 + S&H
---
Vintage Philco generic battery box for farm radio. Use in your Philco farm radio or most vintage farm radios. Battery measures 10-1/8" x 4-1/2" x 2-3/4." Check battery compartment size before ordering. Use this box to build a working battery for your farm radio. Batteries and battery holders not included. Includes instructions. No connector is available for this box.
$20.50 + S&H
Vintage RCA generic battery box for farm radio. Battery measures 10-1/8" x 4-1/2" x 2-3/4." Check battery compartment size before ordering. Use this box to build a working battery for your farm radio. Batteries and battery holders not included. Includes instructions. No connector is available for this box.
$20.50 + S&H
---
Vintage Montgomery Wards Airline generic battery box for farm radio. Another common replacement battery. Battery measures 10-1/8" x 4-1/2" x 2-3/4." Check battery compartment size before ordering. Use in your Wards Airline branded radio or most vintage farm radios. Use this box to build a working battery for your farm radio. Batteries and battery holders not included. Includes instructions. No connector is available for this box.
$20.50 + S&H
---
Vintage Winchester generic battery box for farm radio. Winchester batteries were replacement batteries more likely carried by rural hardware stores. Battery measures 10-1/8" x 4-1/2" x 2-3/4." Check battery compartment size before ordering.Use in vintage farm radios. Use this box to build a working battery for your farm radio. Batteries and battery holders not included. Includes instructions. No connector is available for this box.
$20.50 + S&H
---
Vintage Burgess generic battery box for all farm and portable tube radios, and the RCA Victor Special Model M record player. Battery measures 10-1/8" x 4-1/2" x 2-3/4." Check battery compartment size before ordering. Use to build a working battery for your farm radio or smaller tube portable radio. Batteries and battery holders not included. Includes instructions. No connector is available for this box, but check your radio's OEM connector. If it is the same female connector as used in the tube Trans-Oceanics, you can use the Z-985 male connector sold on our Trans-Oceanic products page.
$20.50 + S&H
---
Burgess 6TA60 battery box for the RCA Victor Special Model M record player using a single 1.5volt/90volt AB battery. RCA Victor Special Model M, K, J, and L that use this battery will have a Z-985 type Trans-Oceanic male connector that mates with a female connector on the battery. RCA Victor Special record players that do not use the Burgess 6TA60 battery used two Burgess 45volt batteries in series for the 90volt B and a 1.5volt A battery for the tube filaments. This box can be purchased with a female connector installed or as a fully assembled battery using ten 9volt cells and paralled D cells for the 1.5volt A supply.
$20.50 + S&H
---
Hallicrafters P1000 AB Battery for the Hallicrafters TW-500 Portable Radio. Use this box to build a working battery for your TW-500. You can use the Z-985 male battery plug to mate with your radio's female connector. Batteries and battery holders not included. Includes instructions. See the Trans-Oceanic products page for connectors.
$20.50 + S&H
---
Click Here for Product Instructions and Technical Information
---