FAQs
---

Information about our products and answers to key questions about ordering our products. Use your BACK BUTTON to return to the previous page.
---
1. Why Should I Operate My Radio on Battery Power?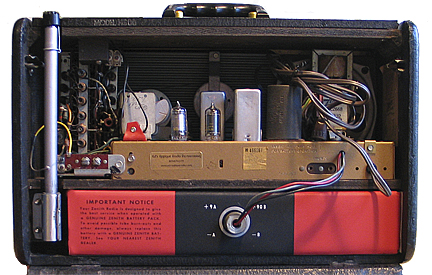 Zenith tube Trans-Oceanics and other vintage tube battery portable radios were engineered to perform best on battery power. Powering the radio with AC power was intended as a backup power source when batteries died. Take your battery powered Trans-Oceanic outside, away from modern sources of radio frequency interference (RFI), such as AC line noise, electric motors, fluorescent lights, modems, flat screen TV's and computers, and you will be amazed at how clear and sensitive your radio performs.
Vintage portable radios required an A battery for the tube filaments and a B battery for the tube plates. The Zenith Trans-Oceanic Z-985 battery combined both batteries in one box, called an A-B Radio battery. A-B batteries were used in all tube Zenith Trans-Oceanics and their clones and provided 90 volts DC (B voltage) for the tube plates and 9 volts DC (A voltage) for the tube filaments.
The first Trans-Oceanic, the model 7G605, requires two D cells in addition to the Z-985 battery. We offer vintage labels for the D cells.
Two models, the 8G005 series and the 600 series, require a 1.5 volt Z-1 battery in addition to the Z-985 battery. We offer a reproduction Z-1 battery for those models.


2. What is a Type AA Reproduction Box?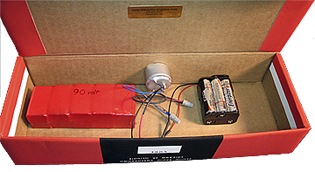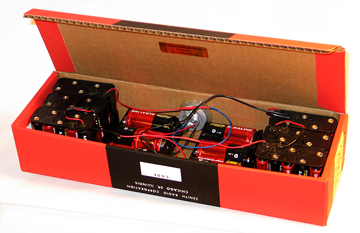 Our battery boxes are reproductions of vintage A-B batteries used in portable tube radios. Unfortunately, these batteries are no longer available.
For years, collectors have re-stuffed original battery boxes with 9-volt cells and D cells to make working batteries. But original battery boxes are hard to find in good condition, and often sell for very high prices on eBay. Now, you can use our reproduction boxes to build your own authentic looking, working batteries for your tube Zenith Trans-Oceanic, RCA Strato-World, or Hallicrafters TW, as shown in the photo at left.
Full instructions to build your battery are included with your purchase. We offer a wide selection of reproduction boxes and suggestions for matching to your radio model. The Type AA box should fit any vintage portable radio that was designed to use a NEDA 400 type battery. Smaller battery boxes can be found on our farm battery page.
Our reproduction boxes measure approximately 13-1/2" long x 4-1/2" wide x 2-3/4" high. Interior dimensions are 13" x 4-1/4" x 2-1/2". The box will hold six 5x2 AA holders and two 3x1 D cell holders. Ten 9-volt cells can be substituted for the 60 AA cells. Slight variations in dimensions and appearance may occur as these are handmade items.
Battery boxes are made from new 1/8" cardboard. Labels are printed on Epson archival photographic papers using Epson Ultrachrome inks.
You will also need a male connector and battery holders, which you can purchase here, or build your own. You may also use an original connector from an old battery if you have one.
You can choose from a variety of connector and battery holder kits, with or without assembly in your battery box. BATTERIES ARE NOT INCLUDED.
The Type AA box also works well with many other battery power supplies available on eBay or other online vendors, such as the kit shown above right. You can also just place the box in your Trans-Oceanic as a dummy battery.

3. What's Included with a Type AA Box?
You will receive one Type AA Box and instructions for building a working battery. Connectors, battery holders, and assembly options are NOT included and may be ordered separately in Step 2.

4. How do I power my reproduction battery?
For the 90-volt B power supply, you have two choices: 60 AA batteries in series or ten 9-volt batteries in series. Sixty AA cells in series will provide up to 400 hours of operating time, and ten 9-volt cells will provide 40 to 80 hours of operating time. Actual operating time will depend upon individual usage patterns and condition of the radio. For the 9-volt A power supply, six D cells in series will be adequate for either configuration. Using AA batteries is more expensive initially, but that cost is recouped by longer battery life.
Another option is to use a solid state power supply, such as Jim Pointivient's ABBattery. If you are purchasing a reproduction box to use with Jim's ABBattery, go to the PRODUCT MENU and choose one of the Type AB boxes. The ABBattery, when available, can be purchased new or used on eBay. However, availability has been very limited the past few years.

5. Do I have to order a connector and battery holders?
No, you can order a box by itself and provide your own connector and battery holders.

6. I just need a connector. Can I order a connector without a box or battery holders?

Yes, if you already have an original box or have made your own box, but need a connector, there is an option to purchase a connector alone. Our male battery connector fits all Zenith Trans-Oceanic radio female battery connectors, and many other portable radios that used the NEDA 400 type AB radio battery. We offer two mounting options: a hot glue mounted connector or a threaded connector secured with a nut. Both types mount through a 1-5/16" hole in the battery box.

7. What are the other kit options for connectors, battery holders and assembly?
We have several options for battery holders and connectors, from Do It Yourself Kits to fully assembled battery boxes. Most kits require the purchase of a Type AA box. Please review the choices below carefully before purchasing. If you have any questions, email us first.
Option 1: Z-985 Style Male Battery Connector
Use one of our male connectors with one of the Type AA boxes above to build a working battery. Installs in your reproduction battery box, and accepts your radio's orginal female connector for an authentic connection, just like the original. This connector may also be used with certain farm and smaller portable tube radio boxes sold on our Farm Battery page. Check your radio's OEM connector to be sure. All connectors come pre-wired with four 6" leads. Blue wire for B+, red for A+, yellow for B- and black for A- leads. Pins are copper or stainless steel. Our connectors are made from plastic filament and 3D printed for accurate fit, and come in two mounting styles: hot glued or threaded body with nut (see image in FAQ no. 6 above). Comes with full instructions on wiring and installation.
Option 2: Z-985 Style Male Battery Connector Installed in your Type AA Box
We'll hot glue your connector in your box for an additional $5.00 (available only with purchase of a Type AA box at the same time).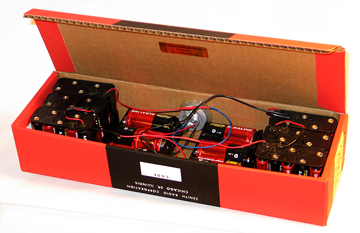 Option 3: Battery Holder Kit A: Do-It-Yourself Kit, Our Most Popular Option
Kit A contains six 5x2 AA battery holders, two 3x1 D battery holders, and a male battery connector to make a working 9-volt/90-volt AB battery as shown in photo at right. Fits in any of the Type AA boxes above. To purchase Kit A, be sure to order a Type AA box of your choice from the selection above. Battery holders come with 6" leads, and must be connected in series. Completed battery requires 60 AA cells and six D cells, which are not included. Typically this battery will provide more than 400 hours of use depending upon length of use and volume setting. Full instructions are included with the purchase of a Type AA box or visit our Resource Page.
Option 4: Battery Holder Kit A Assembled & Installed in Your AA Box
Same as Kit A, but assembled and installed in your box for an additional fee of $25.00. Be sure to purchase a Type AA box of your choice from the selection above.
Option 5: Battery Holder Kit B: DIY with Your Own Connector
Kit includes six 5x2 battery holds and two 3x1 D battery holders. You provide your own connector. Be sure and select and purchase one of the Type AA boxes from the choices above.
Option 6: Battery Holder Kit C: Do-It-Yourself Kit
This kit uses ten 9-volt battery holders in series for the 90-volt B supply instead of 60 AA cells used in Kits A,B, and C. However, service life will be less, 40 to 80 hours, depending on usage patterns.
Option 7: Battery Holder Kit C Assembled and Installed in Your AA Box
Same as Kit C, but includes assembly and installation in your AA box. The ten 9-volt holders are mounted on two 5x1 trays for easy battery replacement.
Option 8: Battery Holder Kit D: Do-It-Yourself Kit
Same as Kit C, but uses snap connectors instead of holders.
Option 9: Battery Holder Kit D Assembled and Installed in Your AA Box
Same as Kit D, but includes assembly and installation in your AA box.
Option 10: Battery Holder Kit Only
Six 5x2 battery holders and two 3x1 D cell holders. You provide your own box, connector, and assembly.
Please note that pricing on battery holder kits is subject is subject to change without notice based on supplier pricing.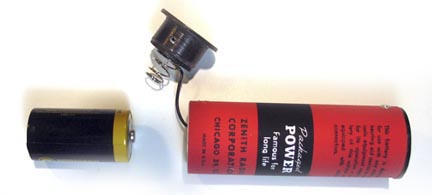 8. What is a Z-1 battery and do I need one?
The Z-1 battery is a 1.5 volt battery about twice as long as a D cell. If you have an 8G005 series Trans-Oceanic, your radio needs a Z-1 battery and a Z-985 battery to work. If you have a 600 series Trans-Oceanic, you will need a Z-1 battery for the dial light circuit. The 600 series dial light does not work on AC. Check the PRODUCT MENU for Z-1 batteries.
The first generation Trans-Oceanic, the 7G605 sailboat or bomber Trans-Oceanic, requires two D cells in series with the Z-985 battery. On the PRODUCT MENU page, you will find vintage D cell labels for your 7G605 radio.
None of the 500 series Trans-Oceanics--G500 or H500--requires a Z-1 battery.

9. I'm not sure which box or kit is best for me. Can I contact you for help?
Yes, please click on the EMAIL ICON below if you have any questions about the purchase of battery kits and/or assembled kits. You may also contact me for support after your receive your kit.

10. Do you have other products for vintage portable radios?
Yes, click on the

icon at the bottom of the page for Z-1 batteries, more battery label kits, specialty audio cables, and other products.

11. Can I download instructions and restoration information?
Yes, we have product information, instructions, and many other resources available for download. Click Here for Product Instructions and Technical Information

12. Do you make custom battery boxes?
On a case by case basis. If you need one of our listed boxes in a special size, we can usually make modifications. To create a new design, I need access to photographs or an original battery to create the artwork. There may be an additional set-up charge. Contact me by email to discuss any special needs.

13. Do you repair radios?
Generally, No. If you have a RCA Victor Special Model M or K record player, I may be able to restore the amplifier and make a battery for it. Contact me by email with your telephone number to discuss.

14. How much is shipping and handling? Do you collect state sales tax?
You will only pay actual domestic Priority Mail postage for shipping in the United States. Initially, you will be charged a shipping and handling fee based on the value of your order. When your order ships, you will receive a refund of all excess shipping and handling fees you were charged. You will also receive an explanation of shipping charges and a tracking number.
International buyers must email me before placing an order. We accept international orders on a case-by-case basis, and there are certain countries to which we will not ship. International shipments will require signature confirmation of delivery. International orders placed without prior authorization will be refused and refunded. I apologize for this necessary but inconvenient requirement.
Virginia and North Carolina residents will be charged state sales tax. In 2018 the U.S. Supreme Court ruled in South Dakota v. Wayfair that online sellers may be required to collect sales tax from all customers. At present, states have not enacted legislation to implement the court's ruling, but as they do, we may be required to add sales tax to your purchases.

15. How do I place an order?
To purchase our reproduction items online using our secure Shopping Cart, select your item and click "ADD TO CART." When you click "ADD TO CART," you will have an opportunity to increase quantities if you wish to purchase more than one of the same item. You will have the option to "Continue Shopping" and return to our website to add more products. When finished, choose "Checkout" and follow PayPal's instructions. Shipping & Handling, and state tax, if required, will be added at CHECKOUT. From out website, you may click on "VIEW CART" to see order details and Checkout.
When you complete your purchase, PayPal will send a receipt to your email. We will also send you an email acknowledgement of your order when we receive it, and we will send you an alert by email when your purchase ships, along with shipping and tracking details, and a refund of any excess postage your paid.
Credit card payments through PayPal will show as ELMPHOTOGRA on your credit card statement.
Unless prior arrangements are made, all shipping is via USPS domestic Priority Mail or Express Mail International. Delivery confirmation is required on all shipments. We charge actual postage only. After shipment, we refund any excess postage paid. You will be invoiced for additional postage if the amount paid is insufficient to cover actual postage after your purchases are packed and weighed. Please read our terms for shipping and handling charges and when state tax applies. Reproduction items are provided solely for the personal use of collectors of vintage radios.

16. How do I change or cancel my order?
If you find you made an error, want to add to your order, or wish to cancel your order, contact me by email as soon as possible. Simple changes, such as changing the style of box or battery kit option, can be done by email. To add to your order, tell me what you want, and I will send you a PayPal invoice for the new items. You may also just create a new order. Your new order will be combined with your original order and excess postage will be refunded. To cancel, contact me by email as soon as possible, and I will refund your purchase price and postage via PayPal. You will receive a refund notice from PayPal and an acknowledgement from me.

17. How long does it take to fill my order?
In most cases your order will ship within a day or two, but larger or complex orders may take up to a week. Most items are handmade upon receipt of your order and payment. Some products, such as a Z-1 battery, may take longer because of glue and paint curing times. If I cannot fill your order immediately, for example, if I am out of town when your order is placed, I will let you know and give you an estimated completion date.
---

Click the You Tube Logo for Videos, or Click Here for More Photos of Reproduction Products in Use
---