Z-985 Type Reproduction Vintage Battery Boxes, Connectors, and Battery Holder Kits for Tube Zenith Trans-Oceanic, RCA Strato-World, Hallicrafters TW and Other Vintage Radios
---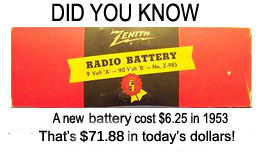 On this Page You Will Find Everything You Need to Build a Working Battery for your Zenith Transoceanic in Three Easy Steps:


Step 1: Choose Your Battery Box

Step 2: Choose Your Connector, Battery Holder, and Assembly Option

Step 3: Checkout with PayPal
---
Questions? Read Our FAQs Page Before You Purchase

International customers please read Question 14 on the FAQs page before ordering. International orders are accepted on a case-by-case basis.
---
STEP 1: CHOOSE YOUR BOX
Reproduction Zenith Z-985 WWII era battery box Type AA
Use for making your own working battery or as a dummy battery. Style used in WWII era Sailboat or Bomber Trans-Oceanics (Model 7G605). May also be used in the 6G601 Zenith Universal companion radio (check battery compartment size before ordering).
$25.50 + S&H
Powering a 7G605? Don't forget vintage flashlight battery labels for your supplementary batteries.
---
Reproduction Zenith Z-985 Early Style battery box Type AA
Use for making your own working battery or as a dummy battery. Style used from the Post-War period through the early 1950's. Recommended for Models 7G605, 8G005 series, G500, and early H500 Trans-Oceanics.
$25.50 + S&H
---
Reproduction Zenith Z-985 Late Style Type AA
Use for making your own working battery or as a dummy battery. This battery style dates from the early fifties until discontinued. Can be used for any Trans-Oceanic radio, recommended for 600 series Transoceanics.
$25.50 + S&H
---
Reproduction Hallicrafters P999 battery box Type AA
Use for making your own working battery or as a dummy battery. Perfect match for your Hallicrafters TW-1000 or TW-2000.
$25.50 + S&H

Looking for a reproduction battery for your TW-500? See the Farm Battery page for the Hallicrafters P1000 battery box for the TW-500

---
Reproduction RCA VS-047 battery box 1950's Era Type AA
Use for making your own working battery or as a dummy battery. A perfect match for you RCA Strato-World 3-BX-671.
$25.50 + S&H
---
Reproduction RCA VS-047 battery box 1960's Era Type AA
Use for making your own working battery or as a dummy battery. A perfect match for you RCA Strato-World 3-BX-671.
$25.50 + S&H
---
Reproduction Eveready 752 battery box Type AA. National Carbon Product (Early)
Use for making your own working battery or as a dummy battery. Perfect for use with any vintage portable using a NEDA 400 size 90v/9v AB battery.
$25.50 + S&H
---
Reproduction Eveready 752 battery box Type AA. Union Carbide Product (Late)
Use for making your own working battery or as a dummy battery. Perfect for use with any vintage portable using a NEDA 400 size 90v/9v AB battery.
$25.50 + S&H
---
Reproduction Burgess G6B60 battery box Type AA
Use for making your own working battery or as a dummy battery. Perfect for use with any vintage portable using a NEDA 400 size 90v/9v AB battery.
$25.50 + S&H
---
Reproduction Ray-O-Vac A400 battery box Type AA
Use for making your own working battery or as a dummy battery. Perfect for use with any vintage portable using a NEDA 400 size 90v/9v AB battery.
$25.50 + S&H
---
Reproduction Sears Silvertone No. 6401 battery box Type AA
Use for making your own working battery or as a dummy battery. Perfect for use with any tube Trans-Oceanic or vintage portable using a NEDA 400 size 90v/9v AB battery.
$25.50 + S&H
---
STEP 2: CHOOSE YOUR CONNECTOR, BATTERY HOLDER, AND ASSEMBLY OPTION

Option 1: Male Battery Connector Only. You Provide Your Own Box and Battery Holders. Choice of Threaded/Nut Connector or Hot Glued Connector











---
Option 2: Male Battery Connector Only Installed in Your Type AA Box. You Provide Your Own Battery Holders
BOX SOLD SEPARATELY. REQUIRES PURCHASE OF A TYPE AA BOX FROM LIST ABOVE
$17.95 + S&H
---
Option 3: DIY Battery Holder Kit A for Type AA Box. Our Most Popular Option
BOX SOLD SEPARATELY. REQUIRES PURCHASE OF A TYPE AA BOX FROM LIST ABOVE.

Uses 60 AA cells in series and six D cells in series. Option 3 is best for radios that will be played frequently.

$38.49 + S&H
---
Option 4: Battery Holder Kit A Fully Assembled and Installed in Your Type AA Box. You Just Add Batteries.
BOX SOLD SEPARATELY. REQUIRES PURCHASE OF A TYPE AA BOX FROM LIST ABOVE.

Uses 60 AA cells in series and six D cells in series. Option 4 is best for radios that will be played frequently.

$63.49 + S&H
---
Option 5: DIY Battery Holder Kit B for Type AA Box. You Provide Your Own Connector
BOX SOLD SEPARATELY. REQUIRES PURCHASE OF A TYPE AA BOX FROM LIST ABOVE.

Uses 60 AA cells in series and six D cells in series. Option 5 is best for radios that will be played frequently.

$25.54 + S&H
---
Option 6: DIY Battery Holder Kit C for Type AA Box
BOX SOLD SEPARATELY. REQUIRES PURCHASE OF A TYPE AA BOX FROM LIST ABOVE.

Uses ten 9-volt cells in series and six D cells in series. Option 6 is best for radios that will be played infrequently.

9-VOLT HOLDERS WITH WIRE LEADS ARE CURRENTLY UNAVAILABLE

Out of Stock
---
Option 7: Battery Holder Kit C Fully Assembled and Installed in Type AA Box. You Just Add Batteries
BOX SOLD SEPARATELY. REQUIRES PURCHASE OF A TYPE AA BOX FROM LIST ABOVE.

Uses ten 9-volt cells in series and six D cells in series. Option 7 is best for radios that will be played infrequently.

$62.74 + S&H
---
Option 8: DIY Economy Battery Holder Kit D for Type AA Box
BOX SOLD SEPARATELY. REQUIRES PURCHASE OF A TYPE AA BOX FROM LIST ABOVE.

Uses ten 9-volt cells in series and six D cells in series. Option 8 is best for radios that will be played infrequently.

$32.84
---
Option 9: Economy Battery Holder Kit D Fully Assembled and Installed in Type AA Box. Just Add Batteries
BOX SOLD SEPARATELY. REQUIRES PURCHASE OF A TYPE AA BOX FROM LIST ABOVE.

Uses ten 9-volt cells in series and six D cells in series. Option 9 is best for radios that will be played infrequently.

$57.84 + S&H
---
Option 10: 60 AA Battery Holder Kit Without Type AA Box Purchase. You Provide Your Own Box and Connector. If you need a connector, add Option 1 to your order.

$34.50 + S&H
---
Is your Trans-Oceanic Radio an 8G005 or 600 series? You will need a Z-1 Battery in addition to the Z-985 battery. Click Here to add a Z-1 Battery to your order
---
STEP 3 : CHECK OUT AND PAY WITH PAYPAL
---
Click Here for Product Instructions and Technical Information
Z-985 Replacement Battery Boxes for Jim Poitivient's "ABBattery" Power Supply
Z-1 Reproduction Batteries and Labels for 8G005 and 600 Series Trans-Oceanics
D Cell Reproduction Labels for 7G605 (Sailboat or Bomber) Trans-Oceanics
---